You are here:  

Home

 > 

Petri dish - Sommerschmied GmbH - Manufacturer of test tubes - laboratory glassware and vials - glass tubes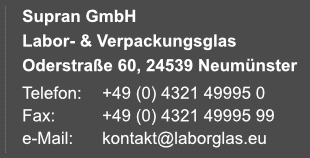 Labware made by Sommerschmied GmbH includes a variety of products and equipment such as glass cylinders, lab glassware, flatbottom glasses, glass tubes and petri dishes for holding liquids and other substances in a laboratory environment and all glass liquid handlings in all industry applications.

Additional labware items include cylinders Caps, Closures, Septa, Jars, vials, ampules, beakers, carboys, and various lab bottles and test tubes with rim and without rim.

When manufacturing the right piece of labware for a given application, there are some important factors to consider, including material type, durability, and capacity.

Labware comes in a variety of material types, such as glass, cork and tube stoppers made of plastic. Glass is an inert brittle solid, and is heat and corrosion resistant. Duran, Simax and Pyrex glass tubes for labware, for example, is selected for its strength and chemical-resistant properties. Sodalime and Borosilicate glass tubes, a common type of glass used in labware materials, is sometimes manufactured to conform to government specifications. Labware comes in a wide array of capacities. Labware also comes in many shapes and is starting already in small quantities. Volumetric test tubes, used for mixing, sampling and filling, have many different shapes, heights, and lenght, and sometimes have a flat bottom, conical bottom, u-type bottom or come with a stopper or other cap type for closure. Storage glass is labware that is used for storing liquids and reference samples.

A resusable test tube with rim typically has metric (mL) graduations, and comes in various millimeter (mm) lengths Serological, volumetric (also known as transfer), or measuring. Sample vials are often used in lab applications. Labware is commonly used by microbiology, researchers, chemists, and biologists in the industrial, chemical, education, research and life sciences industries.

Laboratory Glasswareproducts made by Sommerschmied GmbH are an important part of scientific laboratories wherever the highest quality is required. The professional sturdy packaging we use helps to assure that you receive your Laboratory Glassware products absolutely in tact. These products include General laboratory glassware and supplies, Flatbottom glasses, Laboratory micro vials, Laboratory glass cylinders, Laboratory culture tubes, Laboratory micro test tube, Laboratory cork, Medical cork stoppers and Laboratory stoppers.